ATLANTIC CITY, N.J. -- Gov. Chris Christie's administration issued a directive Monday allowing the state's casinos and racetracks to offer sports betting, a move likely to be challenged in court by sports leagues. The governor said he took his cue from previous federal court rulings that found that nothing in New Jersey law prohibits the casinos and horse racing tracks from offering sports betting.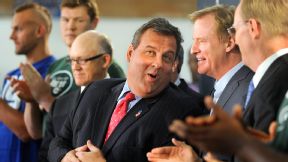 AP Photo/Joe EpsteinNew Jersey governor Chris Christie, with NFL commissioner Roger Goodell in 2013.
His action, through the state attorney general's office, is likely to be challenged by the professional and collegiate sports leagues that fought New Jersey's efforts to overturn a ban on sports betting in all but four states. That effort ended with the U.S. Supreme Court declining to hear the case.
Christie suggested casinos and tracks could start offering betting immediately, but it's not clear that will happen. Rachel Ryan, a spokeswoman for the Meadowlands Racetrack said Monday that the track has no plans to offer sports betting now.
"Based on the arguments of the sports leagues and the United States Department of Justice, the 3rd Circuit has already ruled that New Jersey can carry out sports wagering as described in today's statewide directive," the governor's office wrote in a statement. "The motion simply would clarify and formalize that authority and give clear guidance to casinos and racetracks waiting to open a sports pool in New Jersey."