Saturday, May 4, 2013
Chris Reslock Captures 6th WSOP Circuit Ring to Tie Record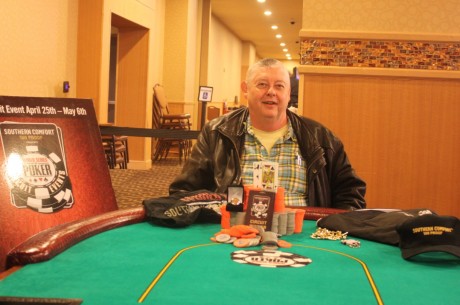 FROM POKER NEWS 03/05/13
The World Series of Poker Circuit is in its ninth season, but the race for the all-time ring lead did heat up until the last couple of years. Mark "Pegasus" Smith
held the record with five for many years
, but he has been joined by the likes of
Kurt Jewell
and
Kyle Cartwright
. Then, in January of this year, 27-year-old Alex Masek
took over the lead when he won his sixth ring
. On May 2 at the Harrah's Philadeplhia stop, 65-year-old Atlantic City pro Chris Reslock tied that record when he won his sixth ring by taking down Event 6 $580 No-Limit Hold'em for $18,200.
Reslock, a retired taxi owner-operator, was participating in just his third Circuit stop of the season, having previously won his fifth ring in a $580 No-Limit Hold'em event at Caesars Atlantic City back in March. Reslock defeated Jonathan Hilton in heads-up play. You may recall Hilton as the runner-up in Event #59 $1,000 No-Limit Hold'em at last year's World Series of Poker in Las Vegas. Reslock's win also gave him 105 National Leaderboard points, meaning he is in a prime position to capture one of the 60 at-large seats to the
WSOP National Championship later this month
Posted by

scottyclark
at 2:04 AM
No comments:

Wednesday, May 1, 2013
When cards got into the air today at the final table of the World Poker Tour bestbet Open in Jacksonville, Florida no one had any idea that the final heads-up battle for first place would last longer than the rest of the table combined, but that is exactly the way things played out. Mike Linster came into the final table in second chip-position and he played well to advance to the final against David Bell. Bell started the day in third chip-position and he came out playing very aggressive to make a run at the tournament championship. He nearly made it too, but Linster persevered on a short stack heads-up to stage a comeback and win his first WPT title. Linster now holds $772,817 in career earnings and he will have a chance to increase that total even further at the WPT World Championship at Bellagio in a few weeks.
Here is a look at the chip counts when the final table began (and the winner's interview):
Seat 1: Pete Tinnesz – 1,035,000
Seat 2: Danny Schechter – 3,825,000
Seat 3: Mike Linster – 2,150,000
Seat 4: Pete Chwala – 1,180,000
Seat 5: David Bell – 1,980,000
Seat 6: David Diaz – 375,000
David Diaz had less than 10 big blinds when the final table began and he wasted no time getting those chips into the middle. Diaz shoved all in on the very first hand of play. No one called him that first time, but seven hands later Diaz was all in preflop for his tournament life against the initial chip leader Danny Schechter. Diaz held Q
10
but Schechter was in the lead with K
K
. The board was dealt A
8
7
3
Q
and Diaz was eliminated in sixth place ($46,673).
The order of eliminations followed the path of shortest stacks at the table when Pete Tinnesz was the next to fall in fifth place ($58,754). In that hand Bell raised to 110,000 on the button and Tinnesz reraised to 225,000 from the small blind. Bell called and the flop rolled out 8
6
5
. Tinnesz checked, Bell fired out 450,000, and then Tinnesz check-raised all in for his final 835,000. Bell called with 8
6
and Tinnesz held A
Q
. The turn and river fell 4
2
and that was it for Tinnesz.
It proved to be a tough stretch for Pete's at the final table as Pete Chwala was up next on the chopping block. He managed to double up once, but the next time he moved all in he wasn't so lucky. Chwala moved all in on a short stack of 510,000 from the big blind on Hand 53 after Schechter raised to 105,000. Linster reraised to 255,000 from the small blind ahead of him. Schechter folded but Linster called with A
Q
. Chwala was behind with K
J
, and after the board ran out 10
4
2
6
4
Chwala was eliminated in fourth place ($79,619).
Schechter may have started the final table with the chip lead but when play reached three-handed action he was behind his more aggressive opponents Linster and Bell. Hand 68 began with Bell raising to 150,000 from the small blind. Schechter three-bet to 405,000 and then Bell moved all in for 4.6 million. Schechter made the all-in call with pocket kings only to learn he had run into a cooler. Bell held A
A
and the Q
7
5
J
8
board brought no rescue for Schechter, who was eliminated in third place ($115,311). When heads-up play began Bell was out in front with 6,245,000, but Linster wasn't too far behind with 4,300,000. The final match proved to be the longest one of the final table. Linster was close to elimination twice, but each time he doubled up to bring the chip counts back to even. Bell then got short but he doubled as well to push the heads-up final past 100 hands in length.
It all finally came to a close on Hand 180. Bell raised to 400,000 and Linster reraised to 1 million. Bell moved all in for 3,775,000 and Linster called with A
Q
. Bell was behind with 8
6
and after the board ran out J
5
2
4
10
he was eliminated in second place ($175,712). That made Linster the WPT bestbet Open champion and he was awarded $321,521 (which includes a $25,500 seat in the WPT World Championship next month). He will also get his name engraved on the WPT Champions Cup.
Posted by

scottyclark
at 4:44 AM
No comments:

Monday, April 29, 2013
FROM POKERNEWS 04/29/13
Marcel Luske
is on a heater of a lifetime. Last week, just days before winning the 7-Card Stud Deep Stack, Luske defeated a pool of 119 players to claim the top prize of €32,000 for taking down the €1,100 Pot-Limit Omaha event. Luske has five titles since last December, when he won the PokerStars Sunday Warm-up. He then won two PokerStars Caribbean Adventure side events in January. The man known as the Flying Dutchman now boasts more than $4 million in career live earnings which places him first on the Netherlands' all-time money list. His two wins during EPT Berlin put him at 31 live tournament wins for his career.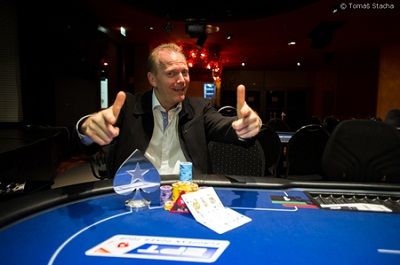 | Place | Player | Prize |
| --- | --- | --- |
| 1 | Marcel Luske | €32,000* |
| 2 | Carsten Joh | €28,000* |
| 3 | Jason Lavallee | €12,700 |
| 4 | Hermenegildas Zilys | €10,100 |
| 5 | Filip Szpak | €7,800 |
| 6 | Michel Leibgorin | €5,770 |
| 7 | Ramzi Jelassi | €4,600 |
| 8 | Glen Cymbaluk | €3,460 |
| 9 | Igor Ilic | €2,900 |
*Denotes heads-up deal
READ MORE REPORTS FROM BERLIN FROM POKER NEWS
Posted by

scottyclark
at 4:27 PM
No comments:

Sunday, April 28, 2013
Posted by

scottyclark
at 4:21 PM
No comments:

Wednesday, April 24, 2013
FROM THE WSOP CIRCUIT BLOG 04/23/13
27-year-old poker pro becomes first player to win the same WSOP Circuit Main Event twice.
Blair Hinkle
Council Bluffs, Iowa (April 23, 2013)
— Blair Hinkle did it again Monday night at Horseshoe Casino by besting 367 entrants in the $1,675 No-Limit Hold'em Main Event in Council Bluffs. Emotions were difficult to hide as the young pro sat behind his riches draped by some of his closest friends and family smiling for the camera.
Blair, who's also a gold bracelet champion, pocketed $121,177, his second WSOP gold ring and automatic entry in the WSOP National Championship Presented by Southern Comfort 100 Proof. On top of these accolades he earned the prestige of becoming the first player in WSOP Circuit history to win the same Main Event twice (he previously won it in 2010). "Coming into the final table, my mom mentioned storylines for the reporters. I thought this would be a good one so I tried to make it happen," Blair jokingly said of his feat. Being the last player standing in an event as difficult as this truly is reason to hold your head high. He bested a field that most notably included his older brother and WSOP gold bracelet champion, Grant. Late in Day 2, Grant and Blair couldn't get away from each other. Every table change, every re-draw; there they were. "It sucked," Blair said of having to face his brother. "Obviously we don't want to play against other good players let alone each other because we don't soft play each other. We got into some pretty big hands. It was frustrating, really."
READ MORE

ABOUT BLAIR'S WIN HERE
You can also check out Blair's August 18,2012 appearance on The Scotty Clark Poker Show, co-hosted by The Poker Monkey HERE where Blair talks about his $1 million dollars stuck on Full Tilt Poker when Black Friday went down. The Poker Players

Alliance's

Rich Muny and three

-

time WSOP winner Tim Burt were also ou

r guests! ~ Scotty
Posted by

scottyclark
at 5:25 PM
No comments: